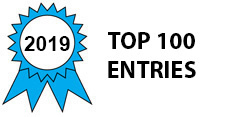 A group of self-driven students from the University of Southern Denmark has designed, built and successfully flown the first ever box-blended wing drone.
This drone, with a wingspan of 1.5 meters can fly for ranges over 80km, carry 2 kg of load, and transports sensors and imaging equipment.
The drone has a box wing configuration, minimizing induced drag created by the generation of vortexes at the tip of the wings. It boosts an extra 20% efficiency compared to conventional aircraft designs.
It is powered by an electric motor and can do fully autonomous launch, way-point navigation and landing. The drone uses advanced materials in its construction: the monocoque tail and body are constructed in carbon fiber, sandwiched with a structural foam core. 3D printed parts reinforced with continuous fibers were used and the design was built for modularization and ease of assembly.
Awards

2019 Top 100 Entries
Voting
ABOUT THE ENTRANT

Team members:

André Rangel
Mark Bech
Jonas Kianzad
Mikkel Labori
Athanasios Papamarinos
Kiagias Konstantinos
Ondrej Pokorny
Vincent Yegenoglu
Michela DIssegna
Raphael Geiger

Andre is inspired by:

Working with a diverse, international and multidisciplinary team; creating a great learning and life experience for every team member involved in the project, while creating innovation with an out of the box perspective for a better, cleaner world.