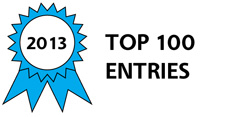 ATOM - The key shaped multitool that puts a tool box in your pocket.
Market Need: Multitools are convenient products that offer a versatile array of hand tools and functions in a single unit. However, traditional multitools are not exactly easy to carry around every day. The products are large, sharp and too heavy to carry in your pocket. Instead, the tool is stored in the apocalyptic survival kit, the nostalgic camping bag or relegated to the car's glove compartment - defeating the purpose.
Solution: ATOM is a key-shaped multitool that offers several convenient tools and features in a compact design that fits on your keychain like any other key. The end result is a multifunctional tool ready to fight off spontaneous outbreaks of zombies (even the scary ones that run really fast...no one cares about the slow ones).
The one piece tool offers the following features:
1. Bottle opener
2-4. Hex bolt wrench set (3/8?, 5/16? and 1/4?)
5-6. Ruler set (imperial and metric)
7-8. Flat head screw driver set (1/8? and 3/16?)
9-10. Philips head screw driver set (#1 and #2)
11. Pry Bar
12. Hex bit driver (1/4?)
13. Protractor (45° increments)
14. Cross-cut coarse file
15. Single-cut fine file
16. Ripping tool*
*Note that the ripping tool is not sharpened. The innovative design allows the tool to rip cardboard and soft wood, but will not break the skin. Safety first!
Manufacturing: ATOM is created by a metal injection molding process using high grade stainless steel (SS440A). The key is then heat treated to increase strength, toughness and corrosion resistance to provide a quality, durable tool. Finally, the product markings (i.e. logo and rulers) are laser etched directly into the steel.
Marketing: ATOM is a convenient tool that appeals to mass consumer markets. The initial capital required to begin production will be raised through non-conventional crowdfunding sources. Additionally, crowdfunding provides a unique opportunity to connect with the consumer and understand the market before launching the final product. Following a successful crowdfunding campaign, ATOM can be mass produced and distributed through online retailers and traditional sporting/outdoor companies.
Awards

2013 Top 100 Entries
Voting
ABOUT THE ENTRANT

Type of entry:

individual


Software used for this entry:

Google Sketch-Up, SolidWorks