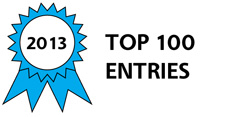 Tractor overturns are still the main cause of fatalities on farms today. In most of these cases, the tractor was fitted with a foldable rollover protective structure (foldable ROPS). Although foldable ROPS should be returned to the upright position immediately upon exiting a low clearance environment, the truth is that the ROPS are usually kept down for different reasons: either it implies an effort for the driver to unfold the ROPS, or it is inconvenient to set the ROPS in the upright position, or simply the driver forgets to return the structure to the protection position.
As a response to this global problem, we have developed a ROPS made with telescopic bars that, thanks to inclinometer sensors and airbag inflators, expands automatically in less than 0.3 sec when the vehicle reaches a tilt angle of 55º degrees. The system is fully automatic, based on active protection, so it does not depend on driver's will. The ROPS has also a V shape. So, when the ROPS is expanded, the horizontal telescopic bar is also expanded, resulting in a bigger security space than normal ROPS.
This protection device is suitable not only for tractors but also for All Terrain Vehicles (ATV's), such as Quads, and industrial equipment (mini dumpers, etc.).
This system, called AIR-ROPS, is suitable for off-road equipment:
1. fitted with insecure cabins, or without any protective device.
2. that wear foldable roll over bars, but due to working reasons or because of the inconvenience of unfolding back the structure, these are kept folded down continuously.
3. that wear protective devices but it works overweight, sometimes duplicating the weight of the tractor.
4. below 600 Kg (at present, common ROPS are not required for tractors below this weight)
5. All new off-road equipment
Advantages of the AIR-ROPS system:
- Considerable reduction of injuries and deaths in rollover accidents.
- Versatile: it can be adapted to many different equipments (tractors, quads/atv, dumpers, etc)
- Bigger security space.
- Automatic: system equipped with inclinometers that activate the inflators to extend the roll bars at a tilt angle between 55° and 60°.
- Adaptation and easier to manufacture: 4 universal models designed, for 4 different resistance levels (up to 500 Kg, up to 1000 Kg, up to 2500 Kg and up to 5000 Kg), according to dimensions and weight of tractor/equipment.
- Adequacy and adaptable: several AIR-ROPS structures can be installed on the same tractor/equipment plus its implement, according to its weight. All structures will be activated simultaneously.
- Safety: warning lights and/or sounds in case of malfunction or failure. Optionally warning devices can be installed to prevent potential rollovers.
- Lower cost of cabin manufacture: cabins are independent of AIR-ROPS structures and they could be identical in all tractor/equipment models.
- Lower repair costs: in case of rollover, only the replacement of the AIR-ROPS structure would be required.
- Lower insurance costs: All this would imply significant savings for insurance companies and also for insured persons because their insurance premiums would be reduced.
Awards

2013 Top 100 Entries
Voting
ABOUT THE ENTRANT

Team members:

CARMELO PEREZ DE LARRAYA
JAVIER BAZTARRIKA
JESUS RECALDE
JOSE ANDRES PALACIOS
DAMIAN PEREZ DE LARRAYA
JAVIER PEREZ DE LARRAYA
IGNACIO GASCON
TOMAS BALLESTEROS
ROBERTO RUIZ