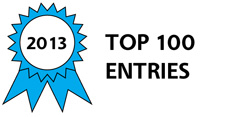 The AUTO Stop Lamp is a smart brake light that provides added protection for your vehicle, your precious cargo and you. The "AUTO" has two meanings: (1) It's a brake light for AUTOmobiles and (2) It AUTOmatically lights up when the vehicle slows down [patent pending].
Benefits:
• Reduces your chances of being rear-ended
• Provides earlier automatic indication of your vehicle slowing down
• Works even when you don't apply the brakes in the case of the unexpected such as downshifting, vehicle malfunction, roadway obstacles, and collisions
• Easy for anyone to install – a direct fit replacement for the existing bulb

Features:
• Applications for most passenger vehicles (motorcycles, cars, pickups, minivans, and SUVs)
• Uses LEDs that have a longer life than traditional incandescent bulbs
• Extends vehicle longevity Note: A 2012 Polk study found that the average age of cars and light trucks on U.S. roads reached a record 10.8 years
• Necessary for driving styles using downshifting instead of applying brakes, such as motorcycles and sports cars
How It Works:
• On-board energy storage is charged when the vehicle operator applies the brakes
• On-board energy storage illuminates the LEDs when deceleration exceeds a pre-defined threshold value
• Pass-through circuitry ensures that the brake light operates as any other brake light but the "smart" sensing and self-illumination increase safety
The AUTO Stop Lamp is in the product development phase now. MECHoptix will be seeking our first round of investment in the fall of 2013 to finish the design then manufacture the product.
Awards

2013 Top 100 Entries
Voting
ABOUT THE ENTRANT

Type of entry:

individual


Jeff's hobbies and activities:

automotive restoration, automotive modification, automotive performance, automotive lighting, mechanical design

Jeff belongs to these online communities:

LinkedIn, Facebook

Jeff is inspired by:

I enjoy applying new technology to solve problems in a new way, replacing the original equipment with a better product. I use my broad experience across several industries and find automotive applications for those technologies.

Software used for this entry:

SolidWorks