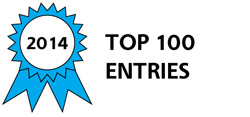 Micro-coil springs provide flexible electrical interconnections and allow significant movement in the x, y, and z axes to counteract the thermal expansion and dynamic forces between a microcircuit and a printed circuit board. Micro-coil springs are able to withstand harsh thermal and vibration environments significantly better than the current state of the art (see table below for performance comparisons).
NASA Value: Marshall engineers have developed a novel interconnection structure for the integrated circuit packages used in aerospace avionic designs. Micro-coil springs (MCS) replace ball or column grid arrays (BGA/CGA), preventing connection breaks due to thermal and vibration stresses.
Partnership Mechanism: Four months after approaching Topline Corporation at the APEX Expo, NASA Marshall signed an exclusive license agreement with the company for the micro-coil technology.
Status: NASA has filed the Patent Protection Treaty. Topline is filing foreign patent protection in several countries and plans to sell the product worldwide. Topline/Marshall are collaborating on advancing surface mount technology (SMT).
Expected Results/Benefits: Topline assists thousands of customers to define and refine their SMT and microelectronics assembly processes. The micro-coil technology will substantially increase interconnection flexibility, offering longer life to these electronics.
Performance Comparisons: Test vehicles have been thermal cycle tested (-55/+125oC, 15 minute soaks at extremes = approx. 1 hour/cycle) and vibration tested at 5g, 8g, and 10g. Note: In order to determine characteristic life, thermal cycle testing of the MCS in the plastic package will continue until 63.2% of the 32 channels (20 channels) have failed.
Awards

2014 Electronics Category Winner
2014 Top 100 Entries
Voting
ABOUT THE ENTRANT

Team members:

Jim Hester, Mark Strickland

Jim is inspired by:

The desire to use my engineering and manufacturing knowledge, skills, and abilities to improve life for all of us.

Software used for this entry:

Inventor Fusion, ANSYS Workbench, AutoCAD, Pro Engineer