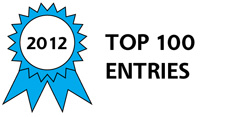 An object of the invention is to provide an apparatus and method for accurately and easily guiding a vehicle into a garage to a predetermined location.

A further object of the invention is to combine reliable ?State-of-the-art? compact diode laser technology with a mounting provision that is simple to install, adjust and utilize for parking a vehicle.

A further object of the invention is to provide an improved method for guiding a vehicle using highly visible linear lines which enable the driver to adjust the vehicle side to side prior to stopping at a precise location.

The invention includes an apparatus and method and an article of manufacture for guiding a vehicle precisely into a predetermined parking location. More particularly the present invention relates to an apparatus comprised of a currently available compact diode laser unit mounted to a holding device. The holding device is designed to hold the laser unit and to fit into a base unit which in turn is mounted to the ceiling of the garage above the vehicle to be guided. The combination of laser, base unit and holding device allows one to attach, adjust and focus the laser beams quickly, easily and accurately.

Additionally, as a means to activate the device ?on? and ?off? several options exist. Option 1, allows the device to be plugged directly into an available electrical outlet provided by (integrated into) the garage door opener. This outlet provides the required voltage to operate the laser and is coupled with the garage door opener light. Typically, when the garage door opener is activated to allow a vehicle to enter, the opener light also is activated. With this arrangement the garage door opener assures the parking laser goes on when it is needed and turns off automatically when the garage door opener light goes off.
Awards

2012 Top 100 Entries
Voting
ABOUT THE ENTRANT

Team members:

Scott Staggers

George's hobbies and activities:

scuba, skiing, hiking, motorcycles

George is inspired by:

To refine a design in a unique way to improve a process, function and aesthetics.

Software used for this entry:

Unigraphics