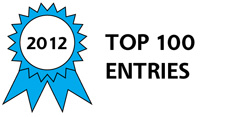 The invention is an improvement in hand tools. The screwdriver is one of the most common and oldest of hand tools. The invention has several embodiments whose novel features include the ability to generate more torque for tightening or loosening a fastener and the ability to access a screw in tight quarters by employing a fastener engaging surface on the side edge of the tool. In addition a fixed insert driver is incorporated into the handle of the tool. By employing insert style bits increased torque can be applied to any fastener by directly engaging the screw whether they be Philips, Allen etc, or indirectly through the use of a bar (converting the tool into a T style driver) when used in the conventional manner. Bits may be retained in the handle driver by incorporating a taper in the bit driver.

Another embodiment features an insert style bit holder in a boss in the blade of the screwdriver for applying breaker bar torque on any style fastener, and a roller slip clutch bit driver in the handle of the tool provides ratcheting action for running the fastener. The use of mechanical advantage reduces the risk of injury and the ratchet action saves time. The ability to generate more torque and the ability to work in tight quarters can mean the difference between accomplishing a job or not. The bits are retained in the broached drivers by magnets that hold them securely while still allowing easy bit changes.

Another embodiment features an inset style screwdriver whose handle accommodates dozens of bits. The bits are retained in channels and secured by O rings and/or in radial holes parallel to the axis. In addition at either end of the handle are two mini drivers, and the fixed insert driver feature and benefits are retained by incorporating it in the stubby driver. Thus the tool may accomplish a range of jobs requiring a jewelers screwdriver to a heavy duty screwdriver. This eliminates the need, space, material use, added weight and expense of acquiring and carrying dozens of tools while still providing the peace of mind that one will have the right tool at hand to accomplish the job.

There is nothing particularly challenging about manufacturing the tools. The screwdriver blade may be forged, the bit carrying handle may be extruded/machined or alternatively - molded. Manufacturing costs should be higher than conventional screwdrivers because of the additional parts and features incorporated into the tool. The roller clutches are fairly expense but are commercially available and fit into a reamed hole. This is a high end feature that people should be willing to pay for. Additionally, it must be remembered, one tool may effectively be replacing dozens of individual tools.

The market for such a tool should be significant - general consumers, from homeowners, to car and boat owners. Additionally, the tool may be tailored to specific occupations. In the end, who doesn't own and who doesn't need a screwdriver!
Awards

2012 Top 100 Entries
Voting
ABOUT THE ENTRANT

Team members:

Ronald Andronica, Randall Andronica

Software used for this entry:

autocad for drawings