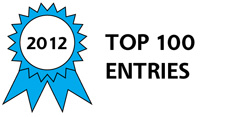 What ispired this design is the death rate in third world countries as well as UNICEF's statement: "The capacity of National Immunization Programmes is strengthened so that every individual can benefit from vaccines of assured quality delivered in the right amount at the right time through efficient logistics, proper vaccine management, and a well-functioning cold chain system."

In fact thirty thousand children every day die from trivial diseases that could be prevented by vaccination. However, the difficulties of an immunization program consists not only in the amount of vaccines for the people, but also how such vaccines are stored during the transportation and before the dosing. The Solar Ice Maker is a fridge for the storage of vaccines that, following the advices of the World Health Organization, is completely autonomous and independent from electricity.

The parts of the solar ice maker are a solar collector connected to an evaporator and a condenser.

The system uses the properties of some solid materials (adsorbent materials) to fix on its surface, water vapor, methanol or ethanol vapor. The system operates alternating a useful night stage, in which the working fluid evaporates to give the cooling effect, to a daytime stage where the adsorbent is regenerated by solar radiation.

The minimum ice production of the machine is around 7.5kg which is used as a cold storage inside the fridge.

So the solar ice maker that we propose is a solar powered refrigeration unit (thermally driven) based on phenomena of ads/desorption of methanol vapors on active carbon.

IT DOESN'T NEED ELECTICITY, SKILLED OPERATORS OR MAINTENANCE.
Awards

2012 Top 100 Entries
Voting
ABOUT THE ENTRANT

Team members:

Giulio Santori
Matteo Moglie
Emanuela Brunetti

Number of times previously entering contest:

never

Duilio's hobbies and activities:

Snowboard, Surf, Indor footbal, bricolage

Duilio belongs to these online communities:

Facebook

Duilio is inspired by:

have a better world where to live!