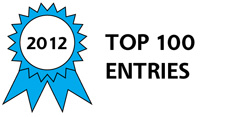 The Integrated Off-Shore Wave Powered Turbine Shaft (OSWPTS) solves the problem of un-tapped energy and wasted spaces. OSWPTS does so by utilizing un-tapped space within the shaft that supports an off-shore wind turbine and using it to maximize energy output by integrating the wind power technology with wave power technology. Currently off-shore wind turbines exist off the coast of Ireland and are beginning to pop up everywhere. These towers supporting the turbines are the perfect place to harness wave powered energy because of the constant ebb and flow (fall and rise) of the ocean.

The OSWPTS shaft has holes near the sea-floor which allows the water pressure on the inside of the shaft to equalize with the exterior water pressure. As the water surrounding the shaft ebb and flow, the water within the shaft 10+/- feet in diameter ebb and flow as well, which in-turn causes the air within the shaft to fluctuate up and down. This movement of air then pushes its way through a Wells Turbine located in the upper end of the shaft, creating clean wave powered energy! Air vents above the Wells Turbine allow air to flow in and out of the shaft and also allow maintenance workers access to the inside components for maintenance or repairs.

The Wells Turbine is perfect for this application because even with the change in direction of air-flow, the turbine always spins the same way, so it doesn't have stop and reverse, it maintains its blade momentum. With every 1 foot of ebb and flow within the OSWPTS, 78.5 cubic feet of air travels through the Wells Turbine, adding a substantial amount of energy output to the wind powered turbine site.

There are currently devices built onto shorelines that use wells turbines in a similar way to create wave powered energy, but there aren't any that have been designed to mount to the sea-floor or that integrate into the off-shore wind turbine. With the surge in energy independence and need for reducing our dependency on oil, it is important that we utilize the technology and space we have to optimize our energy output, to meet our growing energy needs.

These shafts can be produced from steel, concrete or other materials and can range in size and output potential. Concrete for submersion and stability around the base could be pre-cast or poured onsite. Integration into a wind turbine shaft isn't necessary; this design can be easily dropped into place in locations that have ebb and flow. Smaller OSWPTS can even be placed at the end of piers or docks, wherever power is needed.
Awards

2012 Top 100 Entries
Voting
ABOUT THE ENTRANT

Type of entry:

individual


Number of times previously entering contest:

never

Bijan's favorite design and analysis tools:

Solidworks, Revit MEP and AutoCad.

Bijan's hobbies and activities:

Outdoors with kids, playing baseball, riding bikes

Bijan belongs to these online communities:

autodesk community, facebook, phi-theta-kappa

Bijan is inspired by:

The opportunity to create something great, something that will raise people eyebrows, but at the same time brings solutions to issues that are important to me and others. I want to be part of the solution, not the problem. When I was young I admired physicists and inventors such as Einstein and Benjamin Franklin, which I think sparked my creative thinking. After being paralyzed in a car accident in 2004, I pushed myself to get better and to do my best at everything I do. For the last 5 years I have been a single father, my children are my inspiration for life and design. I want them to see that no matter how difficult life gets, you MUST try your best, and with time you will achieve your goals! I just graduated with my Associates Degree in Mechanical Engineering and a Certificate for Sustainability in Engineering.

Software used for this entry:

SolidWorks, hand sketch, scientific calculator