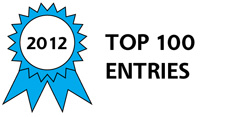 PROBLEM DESCRIPTION: In our modern and globalized world the dependence on fossil fuels for industrial and commercial companies is continuously increasing, gas, diesel or fuel oil #6 are of common use among this type of companies and they have serious problems to estimate long term operational costs due to fluctuating fuel prices and pollution problems due to CO2 emissions.
SOLUTION: Our stellar product is the Power Trough 110 (patent pending), a parabolic trough solar collector developed for process heat generation in the commercial and industrial market sectors. This system can generate thermal energy between 60-250°C, ideal for process heat generation in industries and commerce like hot water, steam generation or drying. Its novel and modular design allows the maximum available area usage for collecting solar energy. The system can be mounted in open areas or rooftops of different kind of companies. Its innovative design for manufacturing and assembly permits lower installation costs than any other similar technology in the market. The Power Trough 110 has a modular design that allows the user to make row and column collector arrays in order to supply the required energy for a determined process. In order for the system to achieve its maximum efficiency and energy harvesting during the day, a low cost electronic and sensor based solar tracking system was developed, this tracking system can be used to actuate up to 20 solar modules allowing cost and installation time reduction.
MARKET POTENTIAL: Inventive Power has estimated a market potential of $164.8 million dollars in annual sales only for Mexico, the analysis was made considering sectors like: agricultural, hotels, hospitality, breweries, and cellulose industries. We have estimated a $1.25 billion USD for United States of America.
BENEFITS: Our technology is a breakthrough in the solar energy field worldwide as it allows users to achieve the best return on their investment thanks to a "keep it as simple as possible" design approach. Typical applications for our product are water heating, steam generation and hot air generation for common processes like: drying, washing, pasteurization, boiling, sterilization, distillation, cooking and many more.
MANUFACTURING: the Power Trough 110 can be manufactured with common metal forming processes like roll forming, machining, welding and sheet metal processes. We use common materials like carbon steel, aluminum and copper (all of them 100% recyclable). In Mexico we have highly skilled labor and very competitive and affordable manufacturing costs which makes us the most competitive commercial option globally.
BACKGROUND: Inventive Power is a start-up company that develops innovative technologies for energy efficiency and renewable energy. We are a spin-off from Monterrey's Higher Technical Institute from Guadalajara, Mexico (ITESM). Coached by researchers from the university and supported by government funds from the National Council for Science and Technology (CONACYT), Inventive Power has been able to develop, test and validate our technology under international standards from ASHRAE or AENOR, we are in the process of installing and running our first commercial projects in different Mexican cities and getting ready to launch an aggressive commercial strategy.
Awards

2012 Top 100 Entries
Voting
ABOUT THE ENTRANT

Type of entry:

individual


Number of times previously entering contest:

never

Aldo's favorite design and analysis tools:

COMSOL Multiphysics, SolidWorks Simulation, Autocad 2012

Aldo's hobbies and activities:

Entrepreneurship, Product Design and market

Aldo belongs to these online communities:

TIC Americas, Cleantech Challenge, YouNoodle

Aldo is inspired by:

Our designs are mainly inspired by our customer's needs for energy generation and efficiency. We always look to develop innovative technological solutions accurate for our market, always looking to achieve the most benefits at the lower cost. Our main product is a parabolic trough solar concentrator for process heat generation in the industrial and commercial market sectors.

Software used for this entry:

SolidWorks Simulation, Autocad, Matlab