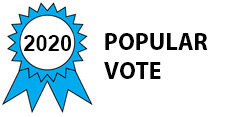 A medical safety device connected between a medical patient and medical equipment. The device can include an outer shell with an exterior sidewall and interior sidewall defining an open interior. The outer shell can include a door that can be opened to allow access to the interior shell. The outer shell can include at least one latch for selectively securing the door in a closed position. The exterior shell can include connecting components for connecting the device to either a surgical bed or IV pole. The interior of the outer shell can include a grooved section having one or more grooves. The grooves can be configured to hold and retain different types of medical circuitry, such as cords, wires, tubes, and the like. Applicable in health care environment. The manufacturer will be FDA certified and utilize ISO 13485 standards and quality management systems. The prototype was redesigned to make the injection molds more cost effective and efficient.
Awards

2020 Top 10 Most Popular
Voting
ABOUT THE ENTRANT

Type of entry:

individual


Sheila is inspired by:

Witnessed life threatening events in the surgical arena cause by wire and tube entanglement.

Software used for this entry:

Adobe Ill.