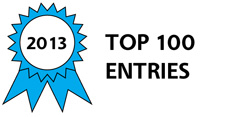 Prism is a solar-powered, water-proof, impact-resistant backpack, designed to power, pack, and protect electronic goods on the go for urban commuters.
Prism utilizes an internal polycarbonate frame to protect your valuable electronic goods against drops, and a sealed, dual-layer, extremely durable, 1000D polyurethane coated nylon fabric on the outside, to protect against rain, exposure, and the elements.
A 4000 mAh battery/solar charger integrated into the top panel enables you to charge your mobile device on the go in the easily accessible kangaroo-style pocket on the strap, and powers built-in LED light piping on the back of the pack to increase visibility during late night bike commutes.
Current backpacks on the market don't address the new needs of people and the electronic goods they carry. By combining the strongest qualities of each material, Prism is the perfect backpack for the urban commuter carrying their work and life with them.
For more on the design process of Prism:
www.lukemastrangelo.com/prism
Awards

2013 Top 100 Entries
Voting
ABOUT THE ENTRANT

Type of entry:

individual


Luke's hobbies and activities:

Design, sketching, water-sports, running, reading.

Luke belongs to these online communities:

core77.com

Luke is inspired by:

Nature and peoples' innate needs.