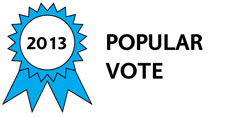 Importance of the work
Waste disposal is a crucial problem in developing countries particularly in India due to heavy population. Presently in India, sanitary workers are using the oldest devices like brooms, iron plates and bamboo baskets for primary collection of solid waste. Thousands of workers die from or are affected with respiratory diseases, urinary, skin & eye infection, lung cancer, tuberculosis etc. 
As a solution to manual primary waste disposal, a cost effective garbage cleaning robot is developed. We call it in Tamil name as "THOOYAN 1" or "2N 1" which is a name which portrays the cleaning and uses clean solar energy.
Construction and Working
The system consists of very simple but highly efficient mechanism. The main components consist of a rotating brush assembly (rake), a unique tilting wedge, a conveyor system and a garbage collection unit.
The rake and wedge assembly serves as the most important component in this vehicle. The rake is a roller fitted with alternating nylon or jute brushes and metal sheets. The brushes help to sweep and pick the lightweight litter such as papers, leaves, cups and plastics. The metal sheets help act as a crusher to crush plastic bottles and cans. This garbage is pushed onto the conveyor belt over the wedge which is the transmitting medium. The conveyor belt then carries the waste and drops it in the garbage disposal unit placed at the back. Two DC motors are used to drive the rake as well as the conveyor system. A solar panel is provided for partial charging of the battery.
The machine runs on four wheels each driven by individual motors. These individual motors help attain the necessary torque to run the vehicle. Two wheels on either side are synchronized in order to obtain complete 360? turn on the spot and normal forward and reverse motion. This gives a larger degree of freedom for the robot to collect trash from almost every nook and corner of the area.
In order to automate this system completely, five sensors are mounted on the vehicle. Robot is programmed in a certain pattern so as to navigate automatically and detect obstacles to move in a free path. If encountered by a moving obstacle, the robot is programmed to pause for duration of 50 seconds and then sense again to move or it will take turn of 180o. The cost for the design, development and fabrication of this robot is less than 2000 USD which is very less compared with cleaning products (manually operated) available in market.
Conclusion
The Thooyan-1 robot is developed to address the problems in primary garbage collection. This cost effective solution also replaces human in solid waste disposal. This robot is the small step to change the manual waste collection and ensures the safety of sanitary workers particularly in India.
Awards

2013 Top 10 Most Popular
Voting
ABOUT THE ENTRANT

Team members:

Dr.D.Dinakaran
Mr.A.S. Mohamed Jiffry
Mr.S.S.Monoj Shekar
Mr.J.A.Mohamed Usman
Mr.M.Janakiraman