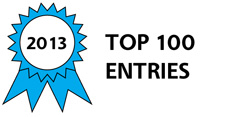 Simplicity is a new spinal tap kit that utilizes a two-part system to improve the accuracy and accessibility of the spinal tap procedure while simultaneously reducing patient pain/discomfort during and after the procedure. The first part of Simplicity is a dual-needle lumbar puncture device which consists of an introducer needle/base, a stylet, and a radial-advancement Whitacre needle. The introducer needle/base is a short needle that, when inserted, stops short of the dura and serves as stabilizer/guide for the Whitacre needle which is inserted through the introducer needle. A stylet is present in the introducer needle during insertion to prevent tissue coring.
Whitacre needles, with their bullet-shaped tip, have been proven to reduce the number of occurrences of post-puncture headache in patients. However, they have a tendency to snake and bend when being inserted solely as a spinal tap. By inserting via the introducer needle, the Whitacre needle is stabilized and more accurate, reducing the number of reinsertions needed to perform a spinal tap, resulting in decreased patient pain/discomfort. The introducer needle/base enables the use of smaller gauge needles which have been proven to further reduce the number of occurrences of post-puncture headache.
By radially advancing the Whitacre needle, the likelihood of bending is further reduced and over-advancement of the needle prevented (over-advancement poses the danger of contacting/penetrating the patient's spinal cord). Specifically, over-advancement is prevented by a limitation on how quickly the needle can be inserted (a function of the base/Whitacre threading). Once the needle penetrates the dura, cerebral spinal fluid (CSF) begins to flow out of the Whitacre needle and signals a halt of advancement.
The second part of Simplicity is a surgical drape designed to allow for easy determination of the introducer needle insertion location. A printed design on the surgical drape utilizes anatomical correlation between the easily felt iliac crest and the desirable insertion site between the L4-L5 vertebrae to reduce the need for needle reinsertions.
This combination of built-in assistance and safety measures allows for a spinal tap procedure to be completed by medical personnel with minimal training on current lumbar puncture techniques. This provides added value as it frees up time of more skilled medical personnel while reducing patient pain/discomfort. Additionally, it allows locations that lack sufficiently trained medical personnel to perform spinal taps with confidence and safety.
Awards

2013 Top 100 Entries
Voting
ABOUT THE ENTRANT

Team members:

Andy Jetter
William Bowlus

Software used for this entry:

Solidworks and Rhino