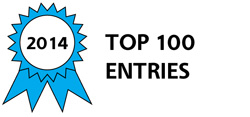 The aerospace industry has been searching for methods for 3D printing with metals, however it's something yet too far. The Mold3d technology comes to circumvent this problem by transforming printed plastic parts into injected metal parts ready for use, without any decrease in resolution and quality.
Mold3d is a technology to fabricate extremely complex pieces in a cheap and fast way. Using a 3D printer with more than 1m³ of usable volume and special materials, the technology consists of printing a piece in a soluble high-precision plastic and depositing it into a block of clay. After hardening the clay, plastic is dissolved without damaging the clay and then the clay undergoes heat treatment to ensure its resistance to high temperatures. It's ready a mold capable of serving for injecting various metals.
Taken after the injection of metal, clay goes through other heat treatments and is then broken and dissolved, leaving only the piece of metal. After the process is finished, the piece can go through rework on a cutter or thermal treatments to enhance their quality.
This process can reduce more than 75% of the wasted metals. This is directly interesting for the aerospace industry, which uses expensive metals in the composition of its components, representing a great saving in raw material. Because it's a mold that can be used only once, the technology is not practical for the consumer products industry, but does not represent any problem for industries that work with unique pieces.
However, the greatest benefit of Mold3d technology is that it enable the making of pieces with the highest complexity, increasing quality and decreasing the amount of moving or independent parts, making maintenance easier and increasing the strength of the assembly. It is common to produce a component from independent parties secured by screws, which also decrease the resistance of the component, it's a very costly process. With the Mold3d technology is possible to make a single piece, which comes ready for use at the end of the process, optimizing the results.
3D printer used to create these molds is special for this use and contains a number of modifications. Besides being twice as big as the biggest already available at the market, it comes with an exchangeable head, making it possible to exchange the tools used to produce the prints. So it can rework even during its own production process, reducing the time spent on the use of multiple machines.
Currently, this project, along with the 3D printer, is incubated at ITEP, Technology Institute of Pernambuco, a renowned institute for scientific research and has the support of SENAI, the National Service of Industrial Learning, the biggest school in Brazil for technicians in all areas of industry, both at Pernambuco, Brazil.
Awards

2014 Top 100 Entries
Voting
ABOUT THE ENTRANT

Type of entry:

individual


Felix is inspired by:

The way complex problems can be solved with simple products is the fuel of my creativity.

Software used for this entry:

Solidworks