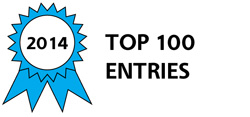 Designed for the demanding applications found in today's high-performance electric and hybrid vehicles, Parker's GVM Series of traction motors offer lower weight and higher power in a smaller package than other traction motors on the market.
The GVM motors have been tested to and meet SAEJ1455 environmental standards.
Parker's GVM Series motors incorporate an innovative winding design and Parker's exclusive cooling implementation, which features a patent-pending internal cooling technology. Coupling these two performance-enhancing features together yield much higher torque per unit size than conventionally constructed permanent magnet motors and creates the core for Parker's standard product line that can deliver 19 kW to 400 kW of power output with 95% efficiency.
The GVM line of traction motors has unprecedented scalability. Combining the two frame sizes, with the 13 lengths and the numerous windings yields over 100 different performance configurations.
Vehicle designers are no longer limited by a fixed winding. Parker's GVM can be refined to achieve a wide-range of base speeds at nearly any voltage.
Some key features of the GVM:
• Peak power from 8kW to 325kW
• Peak torque from 76Nm to 703Nm
• Base speed range from 843rpm to 7575RPM
• Peak power densities up to 4.2kw/kg
• Operating voltages from 24VDC to 800VDC
• Tested and validated to SAE J1455 environmental standards
• Highly efficient rotor and stator design yielding up to 20% more range per charge
• Patent-pending cooling configuration uses WEG or ATF (oil)
• Manufactured in USA and Europe
Awards

2014 Top 100 Entries
Voting
ABOUT THE ENTRANT

Type of entry:

individual


Number of times previously entering contest:

1