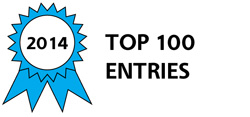 Solar Transportation Technologies is developing a fixed guideway system for dual mode electric cars called Freedom Transit. The fixed guideway powers and controls the electric cars while in the system. The electrical power comes from guideway roof mounted solar panels generating approximately 3.8 Megawatts per mile. Utility power is used to supplement solar power as needed. Access to Freedom Transit is controlled by stations that screen vehicles for maintenance issues before granting access to the guideway. This mass-transit fixed guideway system allows the use of dual mode electric cars for automated self driving on the system and manual driving on roads.
High traffic corridors would be selected as previously identified by DOT for high-speed rail. Routes would be selected and funding for each would be a stand-a-lone project. Each route is a separate public private partnership. An example route would be the I-5 Los Angeles-Long Beach-Santa Ana route with 313,000 Annual Average Daily Traffic - AADT. The Freedom Transit Franchise would build as a public private partnership Freedom Transit's fixed guideway toll road between Los Angles (LAX) airport and San Diego(SAN) airport.
Just this 125 mile fixed guideway would generate $2.8 billion annually with 30% of current traffic. Eventually people would own a Freedom Transit-enabled electric vehicle (estimated average cost $18,000) and would drive from home to a Freedom Transit station, enter the systems (at which point the vehicle becomes self-driving) and then exit with, fully charged battery, at a station near the final destination and manually drive the last mile or two.
Trip cost for an 80 mile trip is $38 per vehicle not per person and would take 35 minutes.
The cost includes vehicle rental, energy used, and toll road fee, totaling 48 cent per mile.
Awards

2014 Top 100 Entries
Voting
ABOUT THE ENTRANT

Type of entry:

individual


Number of times previously entering contest:

2

Jim's favorite design and analysis tools:

Turbo-Cad, Excel,

Jim's hobbies and activities:

Hiking, any form of travel

Jim belongs to these online communities:

Linkedin, Facebook

Jim is inspired by:

I wish to create a safer, environmentally friendly, and sustainable world and make travel fun, easy, safe, again.