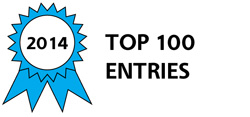 By engineering the fire extinguisher into an oval form, three common construction problems and code violations now have a solution.
1. With the OVAL fire extinguisher, walls can now remain at their standard depth if a storage cabinet with a flush door is desired. Most standard walls are framed with 3-5/8" metal studs; however it is not presently possible to install a flush fire extinguisher cabinet into the standard wall assembly. To presently accommodate a flush cabinet, walls must be changed to either 6" or 8" framing studs. When interior designers and architects make walls deeper to accommodate fire extinguisher cabinets, the walls cost more and a significant amount of rentable & usable area is lost. OVAL has solved this problem and saves money.
2. Where cabinets were previously required to push the fire extinguisher into the wall to comply with Americans with Disabilities Act (ADA) protrusion limits, cabinets can now be eliminated.
3. Common violations of the ADA, ANSI/ICC A117.1 and ISO 21542, related to fire extinguisher height of installation and protrusion limits, now have an easy solution. These building codes state that objects higher that 27" (& 11.8" per ISO) are not allowed to protrude greater than 4" (100mm) from the surface they are mounted to. No other 5lb or 10lb ABC fire extinguisher, when surface mounted, can presently meet the regulated protrusion limit.
The regulatory limits for the protrusion of surface mounted objects were implemented primarily to defend the rights of people who are blind or low vision. Fire extinguishers are one of the most common violators of the regulated protrusion limits.
This was not an easy design problem to solve, as each vessel:
• Must be proof tested to 585 psi (40 bar) with no deformation
• Cannot burst below 1,170 psi (81 bar)
• Must allow the dry chemical powder to flow properly
Awards

2014 Top 100 Entries
Voting
ABOUT THE ENTRANT

Type of entry:

individual


Number of times previously entering contest:

1

Kevin is inspired by:

The interaction between physical objects, the human form, and aesthetics.

Software used for this entry:

SolidWorks & AutoCAD LT