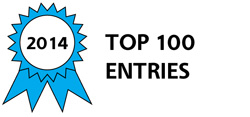 CATEGORY: MACHINERY/AUTOMATION/ROBOTICS
IntelliSense®
Bimba Manufacturing
University Park, IL
IntelliSense® is a "smart" technology platform that combines sensors and software to deliver real-time performance data for pneumatic devices. For the first time users will be able to employ condition-based monitoring to be proactive about maintenance and system optimization, all of which will maximize uptime and productivity without sacrificing quality or efficiency.
What problem does your design idea solve?
In today's competitive global market, manufacturers face intense pressure in meeting their production targets. Machines running at maximum load are increasing wear on pneumatic components and are more likely to break down, compromising operational efficiency. IntelliSense® is the solution to this problem, offering a constant influx of precise and accurate performance-related data that make possible smarter decisions that can ensure maximum uptime and component performance.
What are the potential benefits of IntelliSense®
Predictive Prognostics – up-to-date condition information that predicts when a cylinder will fail
Remote Monitoring – data collection and machinery monitoring, from multiple locations
Machine Efficiency – real-time data that enables users to identify whether a component is achieving its desired performance specification, particularly important in sequencing applications that rely on precise stroke rates
Maximized Production – alerts customers running machinery 24/7 or producing large value batches about underperforming components, thus enabling proactive responses for maximum uptime
How is your idea novel or an improvement on what is currently available in the marketplace?
IntelliSense® is a one-of-a-kind breakthrough in pneumatics. There are no other technology platforms that can offer prognostics, evaluate and report on position, temperature, speed and those conditions that wear down mechanical components and tools running at high speeds and maximum loads.
Where would this idea be applied?
Companies that run machinery 24/7
Companies with large value batches who would lose the batch of product and significant money if the process went down
OEMS looking for a competitive edge
A wide range of industries, including food processing, packaging, automotive, semiconductor, pharmaceutical, medical
How does your design work?
The "intelligence" of IntelliSense® lies within the Sensor Interface Module SIM), a remote monitoring device that gives users operational insights at the device level. The SIM can be easily connected to Bimba cylinders using pneumatic fittings. Applying sensors, it is able to report a range of data, including cylinder condition, run time (to a thousandth of a second), pressure (to one hundredth of a psi) and temperatures (down to a hundredth of a degree).
Data and insights are sent from the SIM to a PLC for advance alarming and controls while also sending real time information to a PC or IntelliSense Data Gateway, which enables remote monitoring, data logging and production data monitoring for user analysis.
The machine-to-machine technologies allow for close monitoring of individual components, giving users the insight needed to move from emergency repair to proactive maintenance, optimizing production as a whole.
Awards

2014 Top 100 Entries
Voting
ABOUT THE ENTRANT

Team members:

Travis Thompson
Thomas Wood
Jeremy King
BIMBA MANUFACTURING
University Park, IL

Software used for this entry:

Solidworks, excel, autocad