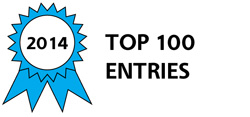 Custom, compact, high performance air-cooled heat sinks, designed to meet the most demanding electronics cooling requirements in both commercial and military applications. This product is the result of the DARPA Research & Development program, entitled Micro- technologies for Air-Cooled Exchangers (MACE), to advance the air side heat transfer performance over current State-of-the-Art heat sinks. The unique design integrates Thermacore's Therma-Base® Vapor Chamber technology within a truly 3-Dimensional heat pipe cooling product, where the vapor flow spreads the heat both laterally in the base and vertically into planar appendage heat pipe blades for a highly efficient, isothermal 3D heat sink. Attached to the planar blades are high density rolled and louvered fins, resulting in an isothermal, high surface area, air-cooled heat sink with exceptionally low thermal resistance and high coefficients of performance.
Key Features:
Compact 
Highly Reliable Passive Device 
Integrated Air-to-Air Compact Heat Exchanger
High Volumetric Isothermally (shown in Figure 2) 
Available with COTS Fans, for 3U to 6U Enclosures and Larger
Ultra-low Thermal Resistance
Lower Electronic Component Temperatures
Scalable and Reconfigurable Design
Thermacore will conduct a thermal analysis to help you determine your Heat Sink needs best suited to your application.

Awards

2014 Top 100 Entries
Voting
ABOUT THE ENTRANT

Team members:

Michael Bucci
Bob Caraccialo
Mark North