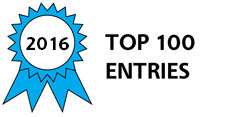 The Kiasu TAG is a smart label attachable to clothes that helps parents to prevent their children from getting lost (www.kiasu.com).
This device when integrated into the clothes is totally unnoticeable to the child and it uses a Bluetooth connection with the parent's smartphone running Kiasu app to inform them about the distance between the child and them and send a warning if the kid goes too far.
When the child gets too far and the signal gets lost the parents and the child can activate a "lost mode" so anyone with the Kiasu app near the kid will report its relative position to the parent's phone in a totally transparent way so near people will not know about any lost child near them. Also any NFC compatible device can read the emergency information data or contact information embedded on the TAG (configurable by the parents).
The Kiasu TAG uses Bluetooth combined with NFC, it can be put on the washing machine or drying machine without problems since it's waterproof and flexible. Our hardware is a flexible PCB with a special coverture to give it water resistance, some consistency and keep it flexible.
The label can run 1 entire year without stopping it or up to 2 years with intermittent use. It's battery is a non-rechargeable and non-replaceable battery so the user don't have to bother about recharging or replacing batteries.
The Kiasu app is necessary to connect and configure the device, configure the distance warnings, and also it provides some extra functionalities like sharing the Kiasu TAG with other persons, activate the "lost mode" or see the info related to their lost kid (this isn't a full tracking device, but helps the parents to find their kids).
Other similar Bluetooth devices aren't waterproof nor flexible, or can't be integrated into the clothes (our device its interchangeable between clothes so it can be reused or can be totally integrated)…
Also other similar devices use GPS and batteries, those are very bulky and needs to be recharged every day while them need an internet conenction (this means monthly costs) and those are a lot more expensive and also invades the intimacy of the children.
Lots of children gets lost every year on beaches, shopping malls, amusement parks… But also on more habitual places like when them go alone to school… We also provide the possibility to integrate our system on those places so for example when the kid arrives at school, a notification is sent to the parents.
The idea of our product is to provide the parents an easy and cheap device that will be ready when it's necessary without disturbing anyone since it's absolutely transparent to everyone (kids, parents, near people…).
We also provide a replacement plan to replace the device when batteries are drained and provide a new one with some discount.
Awards

2016 Top 100 Entries
Voting
ABOUT THE ENTRANT

Name:

Daniel Vea Falguera

Team members:

Enric Arumí, Alex Tarragó, Xavier Bassols, Daniel Vea.

Number of times previously entering contest:

2

Daniel is inspired by:

Solving real problems.

Software used for this entry:

CST