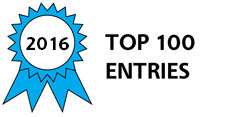 ABSTRACT
For decades, structural sandwich panel design and fabrication has depended on thermoset composite solutions to make light, strong, and stiff structures required in industries such as wind energy, aerospace, transportation, marine and infrastructure. Typical sandwich structures use foam or honeycomb cores with fiber-reinforced thermoset face sheets. Unfortunately, performance and manufacturing difficulties challenge future product improvements. For example, thermoset composite structures suffer from fatigue susceptibility, low ductility and impact fracture, limited material selection and minimal design freedom. Manufacturing difficulties include slow production speeds, handling nuisance, limited shelf life, storage requirements, material incompatibilities, poor recyclability and high production costs.
This paper describes a thermoplastic solution to shortcomings of thermoset technology. Explicitly defined is a unique fabrication system for OEM product improvement that enhances structural sandwich panel construction.
PRODUCT DESCRIPTION
The product is composed of two functional components working synergistically; (1) a customizable thermoplastic sandwich core and (2) a carbon fiber fabric that welds core to face sheets.
First, the core enables panel customization through selectable attributes including density, shear performance, compression performance, environmental considerations, multifunctional operation and cost. By selecting element material and topology, a sandwich panel using tailored core elements optimizes the required performance and cost targets. Also, manufacturing with the product is easy and efficient. Unlike traditional core offerings, the product is supplied on wide format rolls and conforms to complex contours without cutting or slitting.
Second, the welding fabric bonds substrates by resistive welding. This system component is constructed of low areal weight, unidirectional, spread-tow carbon fiber embedded in a thin layer of thermoplastic polymer. The embedding polymer is selected for compatibility with the substrate materials.
In operation, current is applied to the conductive fibers simultaneously heating both the fabric's resin-rich construction and substrate surfaces to their melt temperature. After cooling, a bond between core and face sheet is created of equal or greater strength than their constituent materials. Unlike existing adhesive products, the welding fabric is compatible with thermoplastic substrates and has infinite shelf life.
PRODUCT FABRICATION
Two primary processes are employed for core manufacture; injection-molding individual elements and robotic pick-and-place for heat-welding elements to the carrier fabric. One primary process is employed for welding fabric manufacture; embedding the carbon fiber into a polymer by film calendering. Both product components are manufactured by high speed technologies which emphasize cost efficiencies relative to competitive steam chest and chemical formulation methodologies.
CONCLUSION
Wind turbine blades, aircraft, trucks and rail stock, boats and building facades all rely on sandwich panel construction; in fact, any structural application whose use is sensitive to fuel costs or component weight. The described system enables a whole set of benefits by rendering thermoplastic structural composites a viable alternative to thermoset assembly. Those benefits include superior performance, improved production speeds and lower overall costs. The product does not simply replace available core products with a better performing option; it empowers a completely different and functionally superior construction model.
Awards

2016 Top 100 Entries
Voting
ABOUT THE ENTRANT

Type of entry:

individual


Steve is inspired by:

Inspiration: A passion for energy conservation and the impact composite structures can make toward energy production and efficiency.

Software used for this entry:

Altair Hyperworks, Solidworks, Sigmasoft