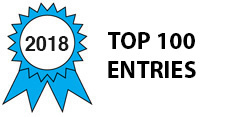 HexaBlock 1-meter hexagon/triangles are new metric standard blocks that build out into standard North American and global metric building code dimensions. Optimally engineered HexaBlocks snap together by hand to assemble any shape of conventional building. A designer can build out in any direction and any thickness predictably. Individuals can build and rebuild structures to adapt to natural environmental changes of building-sites and human population pressures. In a building, door and window openings are formed from derivative halves assembled around the opening locations without cutting or fastening.
Sustainable end benefits are inherently engineered into HexaBlocks for "reuse" rather than recycling, which requires reheating and molding energy. HexaBlocks are designed to build, use, and rebuild structures with optimized engineering information adapting man to his environment. Products have the molded, textured look of concrete with optional sunlight translucent or transparent HexaBlocks. LEK-Crete is applied.
HexSuperelement™ Service Validates engineering at the same relative ease that HexaBlocks snap together. Highly detailed structural calculations are easily and automatically performed on virtually any floor plan defined by a few xyz-Points:
Rapidly analyzes individual HexaBlock assembly-designs, converting non-technical "ideas" into engineered structures equal to those of aircraft engineering—guiding a material user to the best material and design choices.
Builders can answer how insulated a building is, analyzes building stresses and thermal properties, and define how many people can live or work in a building.
HexaBlock Applications can be anywhere that optimized engineering data supports material survival:

· IMMEDIATE—Fences, sidewalks, decks, small farm buildings, sound proof home entertainment/office, wired room floors or walls within a home, and solar rooms.
· INDUSTRIAL—Boat docks, covered equipment mechanical rooms, military hard-shelter, containers, motor home frames, and automotive flatbeds.
· HOME—Making home "room" additions, and homes.
· TUBES—Rapid transit track, solar, and aerospace.

HexaBlock is a mosaic of advanced subsystems and/or composite materials tiled together easily into structures that enable man to survive in remote locations or in a big city—Energy Subsystems functions can be packaged inside HexaBlocks and wired together through conduits:

Fuel cells, solar cells, or thermal voltaic.
Climate control and heat reflective infrared paints.
Noise cancellation (unimorphic ultrasonic wafers).
Wiring, plumbing, and lighting.
In Research and Development:
· Water adsorbent materials for water-making.
· Translucent walls and roofs for a more sunlight penetrating building (below).
HexSuperelement analysis equal to aircraft engineering:

Meets building needs with one inventory item.
Is rapidly optimized by one engineering formula.
Does not require power equipment for assembly.
Eliminates cutting as a requirement for building construction. Buildings can be finished just like conventional buildings with siding, sheetrock, flooring, etc.
1-meter (Flat-to-Flat width) HexaBlock (and 4-derivatives) is the sole building element—2-Layers/152.6-mm (6-in.) thick: (1) Full HexaBlock, (2) 1/2-HexaBlock Along Points, (3) 1/2-HexaBlock Along Flats, (4) Diamonds, and (5 - A,B) Corners.
Awards

2018 Top 100 Entries
Voting
ABOUT THE ENTRANT

Type of entry:

individual


Number of times previously entering contest:

2

David is inspired by:

I learned as chair of 100-Anniv of Aerospace in SAE.org that structures should be simple and optimized for production.

Software used for this entry:

Ansys