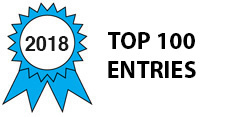 ecoSPEARS is a technology conceptualized by NASA to bring a sustainable, long-term solution to PCB remediation in worldwide water supplies. Polychlorinated Biphenyls are the number one microscopic pollutants in the world's water and yet very little is known to the public about the detrimental health defects they cause or how widespread these pollutants are. The only current methods of PCB remediation are dredging and capping, both of which are incredibly expensive, time-consuming, and do not actually remove PCBs from our water. ecoSPEARS provides a true solution to this issue by removing PCBs from the source of contaminated sediment at a much more efficient rate and cost-effective structure.
The reason ecoSPEARS is able to replace dredging and capping at such a higher cost-effective rate is due to the ease of use of its technology. The SPEARS are 3D-printed using polymer plastic. The hollow interior of the SPEARS is then lined with resin to reinforce its structural integrity and filled with a proprietary solvent. This allows for the polymer molecules to widen when placed within marine sediment, drawing the naturally hydrophobic PCB molecules into the polymer and ensnaring them within the ethanol.
SPEARS are placed in hotspots of contaminated sediment and removed for testing every 2-3 months. Upon removal, SPEARS are returned to scientists at our laboratory to measure the ppm (parts per million) concentration of PCBs that have been absorbed into the plastic SPEARS, as well as the ppm that remains in the sediment and adjacent water column. When the desired concentration level has been reached, SPEARS can be removed from the sediment and enter our contamination destruction process (RIDS) to ensure the remediated toxins are destroyed forever, presenting no residual or future environmental liabilities to clients.
Because PCB contamination is so widespread both in the United States and internationally, ecoSPEARS has the potential to be applied to PCB hotspots worldwide as a permanent replacement solution to capping and dredging; however, for the first 3-5 years after the inception of ecoSPEARS we will focus primarily on PCB hotspots within the United States and Canada in order to further validate our technology and develop methods for international implementation in the coming future.
Currently, ecoSPEARS is being tested in a market research studies in California and Canada. Two previous research studies conducted with SPEARS in 2013 and 2015 showed 70-90% extraction of PCB contamination in static ponds contaminated with roughly 50ppm and 5ppb PCB concentration, respectively, meaning that the technological capabilities of SPEARS are not limited by extremely high or low concentrations of contamination. We have also never seen SPEARS reach capacity, thus theorizing a potential to utilize SPEARS as an "enhanced capping" remediation method. Due to the nature's physical desire to achieve equilibrium, sediments with higher concentrations of PCBs will see a higher rate of absorption in less time than those with lower levels of concentration. Currently, ecoSPEARS are designed to be implemented in a 3'x2' mat designed to hold roughly 64 SPEARS per mat.
Awards

2018 Top 100 Entries
Voting
ABOUT THE ENTRANT

Team members:

Sergie A. Albino - President
R. Ian Doromal - Vice President
Samuel Johnson - Business Analyst
John Omana - Dir. Government Affairs and Land Use Entitlements
Dr. Phil Maloney - Principal Scientist
Phillip Reagin - Dir. Outreach and Community Engagement

Software used for this entry:

Softworks 3D