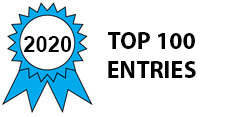 Infrared thermography is an incredibly useful tool with a wide range of users from home owners looking for energy leakage to engineers analyzing the thermal performance of machines to scientists performing basic research. Unfortunately thermal imaging cameras are often expensive and require proprietary software. tCam is designed to make thermographic data available to everybody.
It is a low-cost, high feature thermal imaging camera based around the Flir Lepton 3.5 radiometric imaging module supported by low-cost IOT technology including the ESP32 dual-core micro-controller and a touch LCD screen controlled by sophisticated firmware. Most cameras in tCam's price range output only traditional image files. tCam outputs json-structured files containing the raw radiometric data and telemetry from the Lepton. This enables all sorts of analysis to be done such as multi-point temperature sensing or as an input to deep learning networks for pattern matching and predictive analysis. tCam has an open json-based command interface to allow remote access. This allows users to write custom applications on any platform and with any language, such as python, that supports network access. Of course tCam also includes a desktop application to perform basic thermographic analysis and export traditional image files.
tCam is aimed at a wide range of people from casual users to engineers and scientists wishing to include radiometric data in custom applications.
tCam currently exists as a highly functional prototype. Future experiments are planned to try to increase the Lepton's default accuracy using VCSEL range sensing and ambient temperature and humidity measurements to account for atmospheric losses. The final form for tCam is envisioned as a hand-held unit, like a digital camera, with a capacitive touch screen, Micro-SD storage and built-in Wifi interface.
Awards

2020 Top 100 Entries
Voting
ABOUT THE ENTRANT

Type of entry:

individual


Dan is inspired by:

The maker movement and the usefulness of sharing knowledge.

Software used for this entry:

C, xojo