Page 1 of 2
Over the past 20 years, many innovators have used the recognition afforded by the contest to advance the development and marketing of their technologies. In the following pages, we highlight some success stories of past winners who have brought their inventions to the marketplace.
Self-Destructing Plastics via Embedded Enzymes
Aaron Hall, Chris DelRe, Ivan Jayapurna, and Ting Xu,
Intropic Materials, Oakland, CA, USA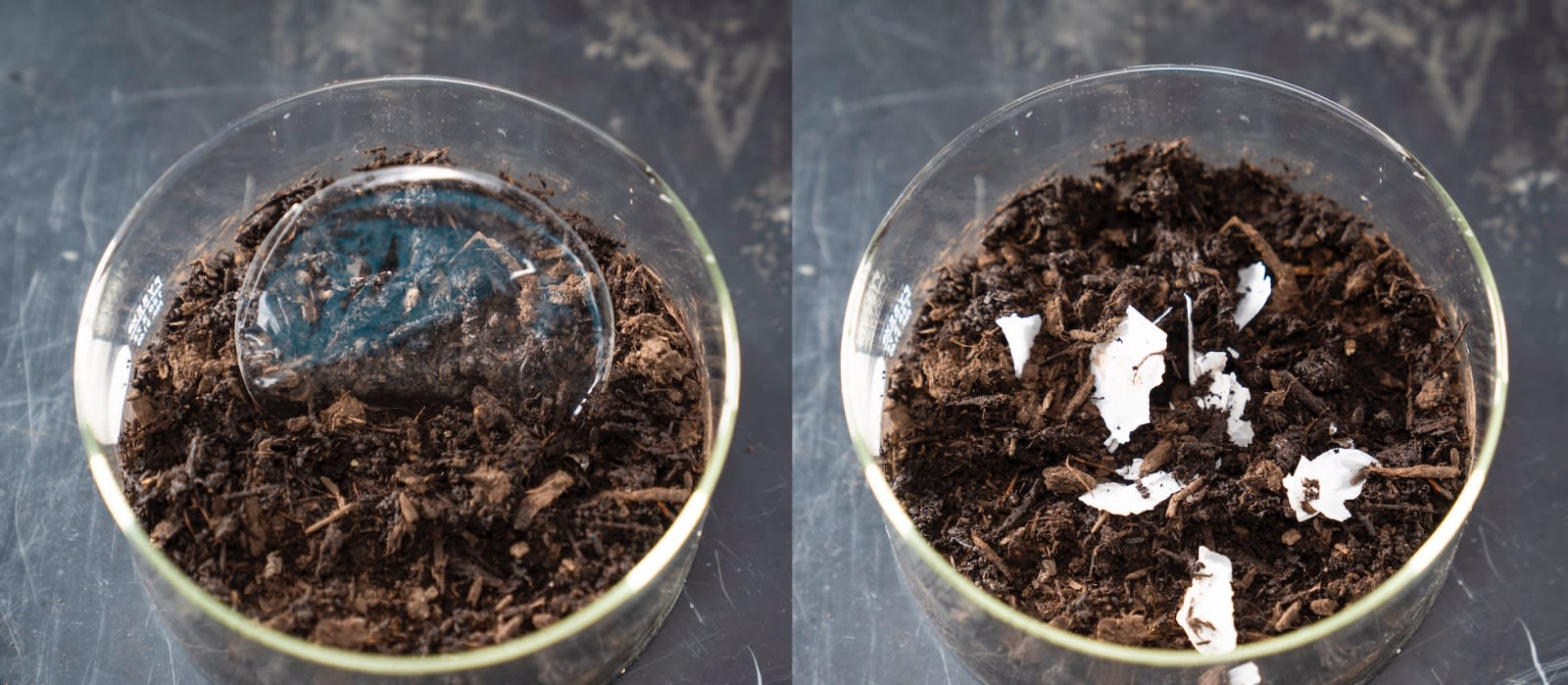 An innovative alternative to a non-degradable plastic.
https://contest.techbriefs.com/2021/entries/sustainable-technologies-future-energy/11344
---
RepelWrap – a Nature-inspired Surface Technology for Repelling Contamination
Leyla Soleymani and Tohid Didar,
McMaster University, Ontario, Canada
A nature-inspired surface technology for repelling contamination.
https://contest.techbriefs.com/2020/entries/manufacturing-robotics-automation/10637
---
The ULiSSES™ Device for Organ and Limb Preservation
Leonid Bunegin, Rafael J Veraza, and Tom DeBrooke,
Vascular Perfusion Solutions Inc., San Antonio, TX, USA
A life-saving device extends the life of organs for transplants.
https://contest.techbriefs.com/2019/entries/medical/9941
---
HI-Light Reactor
Elvis Cao, Jessica Akemi Cimada da Silva, David Erickson, Tobias Hanrath, Jason Salfi, Clayton Poppe
Dimensional Energy Ithaca, NY
The extraction and consumption of fossil carbon accounts for more than 6 billion metric tons of carbon dioxide (CO2) emissions each year, driving climate change. Developed by a team at Cornell University, the HI-Light Reactor is a solar-thermocatalytic "reverse combustion" technology that enables the conversion of CO2 and water to methanol and other high-value hydrocarbons.
The Cornell team's startup, Dimensional Energy, was awarded Phase 2 Small Business Innovation Research (SBIR) funding from the National Science Foundation in September 2018 to advance the technology. The company is also in the 10-team final round of the $20 million NRG COSIA Carbon XPRIZE global competition. In addition, the team was approved for funding by Shell Oil through the Shell GameChanger program.
https://contest.techbriefs.com/2017/entries/8409
---
2017 Medical Category Winner
Arterial Everter
Jeff Plott, Dr. Adeyiza Momoh, Dr. Ian Sando, Brendan McCracken, Dr. Mohammed Tiba, Dr. Kevin Ward, Dr. Jeffrey Kozlow, Dr. Paul Cederna
University of Michigan Ann Arbor, MI
Developed by a team at the University of Michigan, the Arterial Everter is a surgical device that simplifies connecting arteries in complicated procedures such as reconstructing a breast after a mastectomy, or repairing a severely injured leg after a car accident. It can reduce the time it takes to connect arteries from 20 minutes to five minutes.
The device resembles a thin silicone pen with a flexible steel spine and works as an accessory to a currently available tool for connecting blood vessels, the GEM Microvascular Anastomotic Coupler system made by Synovis Micro Companies Alliance, a wholly owned subsidiary of Baxter International.
The University of Michigan and Baxter signed a licensing agreement for the expected future marketing and distribution of the everter device globally. Before the device can be used in surgeries, Baxter must obtain FDA and other approvals.
https://contest.techbriefs.com/2017/entries/8162
---
Hyliion - Hybrid Technology for Semi-Trailers and the Trucking Industry
Thomas Healy, RF Culbertson, AJ Emanuele, Morgan Culbertson, Wilson Sa, Pam Culbertson, Chad Saylor, Len Kulbacki, Eric Weber, Adam Faris, Kim Kasee, Roger Richter, Jared King, Phil Aufdencamp, and Tim Gehring,
Hyliion, Pittsburgh, PA, USA
A hybrid electric system decreases fuel consumption and reduces emissions by capturing wasted energy and storing it in a battery pack.
https://contest.techbriefs.com/2016/entries/sustainable-technologies/6789
---
2016 Medical Category Winner
Continuous Wearable Blood Pressure Monitor
Sean Connell, Kyle Miller Ph.D., Dr. Jay Pandit, Dr. Jung-En Wu
Bold Diagnostics Chicago, IL
High blood pressure is a modifiable risk factor that can be managed with adequate monitoring; however, the traditional blood pressure cuff provides inaccurate and infrequent measurements.
Bold Diagnostics developed a continuous wearable blood pressure monitor that consists of wristbands that continuously measure blood pressure, and a smartphone application that uploads a report into the patient medical record for clinician review. The solution provides accurate measurements with greater frequency.
The company developed a strategy focused on direct distribution to tertiary care centers for a price between $155 and $195 at cost of goods sold at $25 to $40. The commercial handheld blood pressure monitor — the Bold CTRL — takes blood pressure at the fingertips and requires just a few heartbeats to measure blood pressure. A mobile app enables users to see trends, gain insights into their heart health, and share personalized reports with their physician.
https://contest.techbriefs.com/2016/entries/6724
---
2016 Automotive & Transportation Category Winner
Nexcel Oil Cell
Castrol innoVentures Nexcel Team
Castrol innoVentures Oxford, United Kingdom
The Nexcel sealed oil cell comes complete with high-quality oil, an integrated oil filter, and an electronic tag to ensure the right match for every engine. After every quick and efficient oil change — when the service center fits a fresh Nexcel cell — the used cell is collected, recycled, and reused up to five times; a process that includes the used oil being re-refined back into lubricants. Nexcel claims the system can compete on a carbon-savings basis with conventional environmental technologies.
The company is focusing on linking its system with hybrid drivetrains to achieve significant environmental gains. As engine efficiency improves, the warm-up period becomes proportionately more significant for emissions. By reducing the volume of oil in the engine sump during cold start, the Nexcel system enables faster warm-up.
With the oil filter housed in the Nexcel cell, vehicle designers would no longer be required to provide space around the engine block for conventional oil filter replacement.
Nexcel is already used on the Aston Martin Vulcan and Vantage GT8. Other manufacturers are integrating it into future production models. The company expects low-volume manufacturers to be utilizing Nexcel by 2020; the first mass-market passenger car systems should be on the road soon after.
https://contest.techbriefs.com/2016/entries/7060
---
2016 Consumer Products Category Winner
mifold Grab-and-Go Booster Seat
Jon Sumroy
Carfoldio Ltd. Houston, TX
The mifold Grab-and-Go booster seat for children aged 412 is more than ten times smaller than a regular booster seat and just as safe. mifold secures the seat-belt in the correct position on the hips and shoulder by holding the seatbelt down at three points. In a collision, the child is protected in the same way as they would be with a conventional booster seat.
Because mifold doesn't need to lift the child, it doesn't need to be big and bulky. It is flat and can be folded to create a compact, portable package measuring 10 × 5 × 2". The product is built with 6061 aircraft-grade aluminum and Dupont™ Delrin® 100ST, a super-tough plastic polymer with excellent impact resistance. The entire seat weighs just 1.6 pounds.
The Create the Future award was the first award the mifold grab-and-go received; it has since won 15 other international innovation, design, and consumer awards.
Today, there is a range of mifold grab-and-go booster seats: the original mifold Sport (sold exclusively at Nordstrom), and a B2B version called mifold One (a non-folding seat targeting taxi fleets that need compact storage but not the same portability).
The seats are now sold on Amazon, and in Target, BuyBuy Baby, Kohl's, and Walmart stores. Outside the USA, there are distributors covering 50 markets. In total, nearly three-quarters of a million seats have been shipped worldwide.
A crowdfunding campaign was recently completed for a new product: hifold by mifold. The portable, adjustable, high-back booster is three times smaller than a regular car booster seat. It folds down to fit in a small carry bag and has four different adjustable zones to fit as the child grows. The company is currently taking pre-orders for the hifold.
https://contest.techbriefs.com/2016/entries/6414
---
2015 Medical Category Winner
Smart X-ray Source
Mark Eaton, Dr. Ronald Hellmer, Dr. Shuo Cheng, Hugo Leon, Dr. Leif Fredin
Stellarray Austin, TX
The Smart X-ray Source combines classical x-ray physics and flat-panel display technology for a new x-ray source.
Smart means the source has a large array of x-ray spots that can be addressed electronically in whatever sequence, intensity, and pattern is programmed into the control computer.
Since their Create the Future contest win, Stellarray developed a radiographic medical imaging system for NASA that can be carried into space. It can be used not only for 2D x-ray imaging but also for 3D computed tomography. The system will meet imaging needs for musculoskeletal, head and neck, soft tissue, dental, and other conditions.
https://contest.techbriefs.com/2015/entries/6206
---
2015 Electronics Category Winner
Fiber Optic Sensing System
Lance Richards, Patrick Chan, Philip Hamory, Allen Parker, Anthony Piazza, Dr. William Ko
NASA Armstrong Flight Research Center Edwards, CA
A Fiber Optic Sensing System (FOSS) developed for aeronautics research has the potential to solve a number of technical challenges for industries as diverse as medical, power, and automotive.
In the past, collecting aerodynamic data from research aircraft and transmitting it required infrastructure including miles of wires and bulky sensors. Armstrong researchers developed a simpler, lightweight solution for the system's electronics that started out as nearly table-sized, but soon will fit in a container the size of a box of cookies.
Various NASA centers are partnering on composite over-wrapped pressure vessel (COPV) tanks from Space X that are instrumented with FOSS, which would provide real-time data on strain and temperature in the unforgiving environment of cryogenic liquids and extreme pressures. Oil, gas, dairy, and other industries have inquired about a system that can help with a number of different applications.