2014
Aerospace & Defense
The Sparrowhawk-HL is a hand-launched version of the (military variant) Sparrowhawk designed primarily for the civil market. The Sparrowhawk-HL is an electric powered-paraglider system with a vertical hanging fuselage.
SUPERSONIC LIQUID DROPLET LAUNCHER:
An idea to provide a repetitive stream of liquid drops at supersonic velocity.
BACKGROUND:
A Need Exists To Launch Mach>3 Droplets At Optical Components For Erosion Studies On High Mach Number Vehicles.
The intention of this method is to suppress the separation of flow over a wing by using the piezoelectric property. Attempt is made to reduce the loss of lift at higher angle of attack and hence increase critical angle of attack.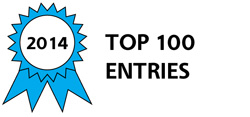 TACTICALIVE PW-14:
The World's First Type 1 Auto-Protocol Switching Redundant Telephone
With the intent to save lives through redundancy, The Poitier Wright Model 14, or PW-14® allows multiple monitoring real-time capability over Data-Link tracks of concern, providing the capability to "lock-on" tracks,
Our team consists of four members. We the Team Seyon have come upon to create a jet pack using simple and cost effective materials. Building this prop is not rocket science, even though you're building a "jet pack." We used basic products to build this jet pack.
My idea is for a tethered electric powered UAV with coaxial rotors that could be made in various sizes and powered by the ground through the tether so it stay up for days at a time.
Drones are bringing Intelligence and Situation Awareness (ISA) on the battlefield. Power generation and weight are two variables that restrict their persistence and push them off-range from the war fighters.
Today,
CONTEST ENTRY: Augmented Reality Helmet Controls - The BROWZ*A/R (Rugged*IZ Edition)
ENTRY SLOGAN: "The KEY to What You SEE"
APP FEATURES
Augmented-Reality Display and Control in Hands-Free Environments;
Augmented-Reality for WorkZone SAFETY Standards (OSHA, UN);
[Suit Environments: sterile, hostile, extreme,
DID WE TAKE THE WRONG APPROACH TO FLIGHT?
Perception is Reality. Our current perception is that flight requires lift via the manipulation of air flow.
According to the laws of air resistance a BUMBLEBEE can (or should) not fly.