2017
Electronics/​Sensors/​IoT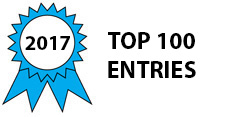 NASA Langley Research Center has developed a process methodology for making red, green and blue LED device structures on the same substrate (wafer), which is not possible today using current techniques. Such devices are manufactured individually because of different crystal structures.
Several incidents of rape, molestation, robbery, and physical assault have put women in India in an insecure position. The human trafficking has made both women and children feel bad against their country.
->Literature Survey: - Speed thrills but it also kills! Over speeding is the main cause when it comes to road accidents in the city. Statistics available with the traffic police shows that of 1,531 road accidents that took place last year, 413 accidents were caused due to over speeding.
Objective :
1.Set up an automated system to empty the garbage bin when it is full. 2.Set up a control room near the residential area/public places which will coordinate in the proper operation of the solid waste treatment plant.
Recently it is being realized that bus shelters can be much more than just sitting areas used while waiting for the bus. New technologies are being used to transform ordinary bus shelters into smart bus shelters,
This project is related to the Voice Controlled Wheelchair System by using speech recognition module. The system is designed to control a wheelchair using the voice of consumer.
Almost 30% of 40 million older people in America live alone, about 12 million people. Studies have shown that many older people that live alone wish to continue to be independent for as long as possible. (Kaplan et al, "Older People Living Alone", 2016).
Description:
This product provides an added volume boost to iPhones and computer.
Ultimately, we'd like to create an audio booster accessory that plugs directly into an iPhone. You would then be able to plug your headphones into this accessory so you can listen to your music at louder levels.
Keep out of reach of children, almost every cupboard contains something that states this warning on the label. Whether it is for the child's safety of the sanity of the parent; medication, paint,