2010
Consumer Products
DAMPS Technology MKIII Smart Boots utilizes opposing super magnets in the heel of footwear for advanced suspenstion/propulsion shock mitigation.
In testing with Special Operations, DAMPS recorded over a 68% increase in heel strike shock mitigation, when compared to conventional footwear. That means soldiers,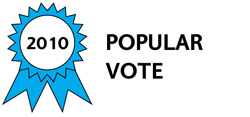 The DeskSpacer II is a quadrilateral shaped utility desk organizer constructed of high-impact durable, lightweight injection molded plastic with a thickness of 16th -18th of an inch, a 10° to 15° slope on the top, a height (front slope) of 8.5 inches,
My idea is to have an alarm clock with a voice recording (dictaphone) feature. Recorded mesages would be all or part of the alarm sound which goes off to wake the user up.
DisplayScore - LCD score viewer for Musicians
Have you gone to a concert? And did you see a musician make some effort to change the page of the score while playing the instrument? Well,
Larger-than-life issues such as Global Climate Change can seem so complex that the non-scientist feels intimidated by the whole thing. The proposed distributed system would get the average citizen, family, school groups and other organizations directly involved.
DOME is a saucepan accessory that can be used instead of a regular lid.
In fact, the problem with a regular lid is that when we take it off the saucepan,
Utilizing kinetic energy to "automatically" activate a non-aerosol pleasant spray, ridding restrooms (or portable restrooms) of unpleasant odors.
The product offers an immediate solution before entering a restroom which may have a lingering foul odor. As one opens the door to the restroom,
Here is a design that prevents drying-up of paint inside their cans when left in storage for long, the main reason for drying up being the interaction of air with the surface layer of paint...
* Here is a product that increases quality of life in the workplace, at home, during leisure time, or while traveling.

* The proposed novel affordable dual purpose, interior, self-contained, off-grid lighting device is the "Magnetically Mounted Disc-Shaped Light Diffuser",
Sleek and minimal? Check. Large screen? Check. Oodles of tech? Check, check and check! E'llipse is a watch to end all watches. Why? Because it has a fancy processor and the latest algorithms in human-machine learning. Yes it learns you!