2010
Entries
For reduction of environmental pollution we have to look for solutions how to reduce the amount of parts concerning consumer products. Here, a plastic bottle is presented, that does not need a cap for closing it.
Problem: kids can be hurt when exiting an inflatable "bounce house". The most common injury occurs when the child exits the inflatable in an uncontrolled manner, falling to the ground, and often striking their head on the ground.
This is a rough drawing to show my idea. It consists of a machine that would be lowered over a semi straight area of the 21" diameter pipe. A hinged clamp would then be rotated around and bolts would be tightened.
Material System
A material system on the basis of a force-fit between pvc (polyvinylchlorid) and carbon fibres has
been intelligently introduced in a geometric development of a shading construction which unfolds an apparent functionality with temperature change.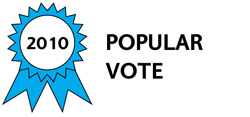 BreezeRite is an indoor air, modular filtration system that uses new or existing ceiling fans and attaches by interference fit eliminating the need for any mounting hardware.
The traffic situation is bad and getting worse. Congestion delays the average American driver hundreds of hours per year. Such a situation robs productivity, increases air pollution, and wastes petroleum.
Clean water in, Dirty water out. Like no other tool on the market, Bucket Ape leverages standard items that most people already have in their possession. Most importantly, Bucket Ape benefits Professionals and DIY'ers by saving time, money and helps to protect their health.
You go to a big fair or congress and gets many business cards and need to keep them organized and grouped by type of company or business segment. Nothing better than a portable business card riveter. It is simple to use.
Buzzy is a reusable pain relief system proven to reduce needle pain and needle phobia during injections. Buzzy uses vibration and cold to naturally block the sharp pain associated with shots. Buzzy buffers pain using physiology we take for granted. A normal nervous system conveys temperature,
The Camera Aided Parking System was conceived to help drivers find free parking places on any parking lot as fast as possible.
Finding a free place to park your car can be a tedious task. This is true especially during shopping seasons such as Christmas.