2018
Entries
PROBLEM STATEMENT
Mobile video calling is the most convenient communication technology available to common people today. But, this doesn't come any close to real "Face to Face" communication. In face to face, person can move around & control their visual (eye-ball movement &
virtual healing, virtual psychologist, virtual filling with energy, virtual religion.
A device that can change people for the better. Every person on the planet Earth has a choice, which way to go, but not everyone knows about it, they live in their little world.
The development and production costs for VTOL aircraft are very high. An obvious way to reduce these costs is to use components from the existent aircraft. Reusing a larger and highly complex component induces lower costs of development and production. In this presentation,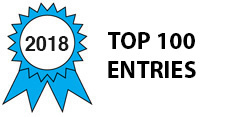 This idea came from the analysis of why symmetric-multi-processing (SMP) architectures failed to perform well when given an intrinsically parallel software task (circuit simulation in Verilog) - despite being able to get as many as 48 CPUs on a chip these days,
This submission shows a more effective method of recovering waste heat energy in commercial vehicles than the Rankine cycle systems and TEG's as used on the DOE SuperTrucks. The reason for utilizing waste heat is to reduce the vehicles fuel usage. There are four main sources of heat rejection;
This project is about thermal insulation for horizontal rooftops through tiles manufactured with recycled crumb rubber from scrap tires that responds to socio-ecological problems caused by scrap tire piles, such as impacts to the ecosystem (fires/groundwater pollution…), health impacts (vectors/fires...
Ammonia air conditioning uses the exhaust heat to run air conditioning in automotive applications. This is old tech that isn't used enough, and would not waste any power but save it by not using compressors,
Background
Older toilets can use 3.5, 5, or even up to 7 gallons per flush (gpf). Toilets typically account for 30 percent of daily water consumption. The current US national standard is 1.6 gpf, while the California standard is 1.28 gpf.
This is a Wave Turbine. This concept produces electricity. First we have to build a Float. That is 500 ft L x 40 ft W x 10 ft H, weight 3000 lbs. We have a curb 6 ft high at the edge to collect the waves.
The uRADMonitor AIR is a small device with an opto-electric Particulate Matter sensor that tracks your environment wherever you are. It shows the best routes in town for doing jogging, cycling, or taking your kids for a walk.